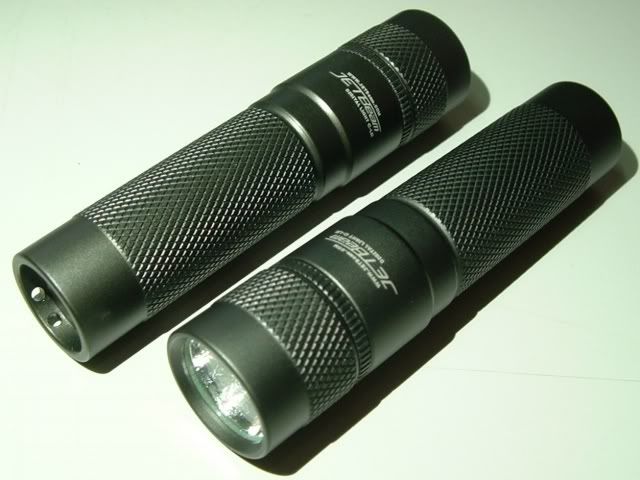 Their website here looks pretty slick
http://www.jetbeam.com.cn/links/
If you pay attention, the dot CN in the URL means its a chinese website and yes this is a chinese brand. Probably class A or better.
A quick spec overview:
* Cree XR-E P4
* Aluminum OP reflector
* Harden glass lens
* T6061 Aluminum Alloy, Type III HA
* 1 AA battery (1.0-1.5v)
* Head dia. 19.5mm, tail dia. 17mm, length 85mm
* Weight 32g (bettery not included)
* Twisty type switch
* 10m water-resistance
* Multi-mode output: Med/Low/High/Strobe(10Hz)/SOS
* Output level: about 40/20/80 Lm
* Run time: about 7/30/2 hrs.
$26,
free shipping
Acc to the review here
http://www.candlepowerforums.com/vb/showthread.php?t=151087
One big turn off is the lack of a spring on the negative end/tail cap. This can damage nimh batteries by crusing the negative terminal.
in reference to:
JetBeam C-LE Cree 1xAA Flashlight [E2315] : BestOfferBuy.com, Buy DVD, Shop for PC accessories, Discount MP3 Players, Bargain Deal for Surveillance Equipment, Cheap R4 for NDS, X-sim Unlock
(
view on Google Sidewiki
)